What is aid-station etiquette? Does it even exist? I've always wondered. As a running coach and race director I've got the answers for you. 
When I was a professional athlete, everytime I would approach an aid-station, I had a game plan. You should too. Even if you're not trying to be competitive and fly through each aid-station
gracefully spilling half the aid on your beautiful racing outfit. Changing the colors of your sponsorship logos or making your body sticky for those post-race congratulatory hugs may not be part of your game plan, but it's okay if it happens anyway.
Did you know in some events you can get time penalties or disqualified for not disposing your trash in the proper areas designated within aid-stations? DOLAN RENO 5000 Running Series events have not reached this point but you should still have a good plan. Not only for yourself but to show you care about volunteers who have to clean up your sticky trash. 
Most people aren't going for the win. However if you are, you probably already know how to keep running while hydrating, grabbing a gel or snack. Let's talk about the other part of aid-station etiquette that you need to be aware of. 
Courtesy. 
Volunteering is often times more demanding than running in the event. As a runner, it may appear these aid-station volunteers are just standing around. They're not.
Volunteers hustle!!! There is a role for each aid-station volunteer. One is mixing your electrolyte drink to keep you running strong. One is putting out cups. One is filling up the cups. A few are handing out the various drinks. A couple are cleaning up your rubbish. There may be one controlling the music and and couple directing traffic or cheering you on. You've got 9 aid-stations set up along the marathon course. Runners pass each of them at least 2 times.
That's a lot of work.
As a runner it's important to be courteous to your volunteers. Thank them if you can. Dispose your empty cups and other trash in close proximity of the aid-station. This helps volunteers clean up the course more efficiently. 
007 Status.
If you're a new runner you don't need to worry about flying through stations. Walk. Jog. Stop if you want. It doesn't matter. Have fun. Get what you need and keep going. These volunteers are out there for your success. Each aid-station also has communications support. So if you feel like you need more help than just fluid, please feel free to ask for more help. An EMT can be to you in a very short amount of time.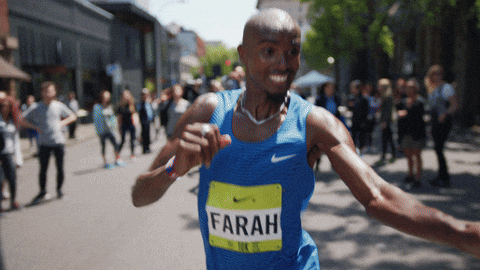 If speed is your concern, or being slick like James Bond, keep running. Run through each station. Make sure you get what you need for a good race. Grab your fluid of choice and squeeze the cup at the top to create minimal loss of fluid. Keep the cup this way while you drink. This method will help you maintain running speed and minimize fluid and time lost. 
Elites often bring their own nutrition that they are accustomed to. They will usually open their gel packet and consume the gel just prior to 
approaching an aid-station so they can wash it down with some water and throw the wrapper away within the aid-station. I've seen different athletes use different styles.
Practice your style. Whatever works for you, stick with it.
Success Story.
Did you realize that in order for a running event to take place, it takes lots of people from your community. The more participants or the longer the event, the more community support needed. 
The Boston Marathon has 10,000 volunteers. This is a huge part of what makes the event such a great experience for its runners. These volunteer spots fill up fast too! They have an amazing ratio of 3.6 runners to every one volunteer.  
 PC: Runner's World
We aren't Boston. We are Reno.
We all know we aren't ever going to have 36,000 runners or 10,000 volunteers in Reno. We don't mind. We like our local events for their quality and not getting lost in the big crowd is nice.
In the Biggest Little City in the World, we have more room to run through each aid-station. This can also allow for more success to qualify for the Boston Marathon. (Oh yeah, we all don't run marathons either... that's why we offer a 2-person 26.2 relay, 13.1, 10k, 5k and Jr 1 mile for the little ones. Walkers are welcome too! With a 6 hour cut off, feel free to walk any distance up to 13.1).
Every volunteer we get, we appreciate as race directors and you appreciate as runners. Let's make sure they know it. 
Be Involved. 
Let's stand out and show America we are the best community wrapped around diversity in our events, health, wellness and more. If you are interested in helping to improve the quality of our running series by volunteering click here.